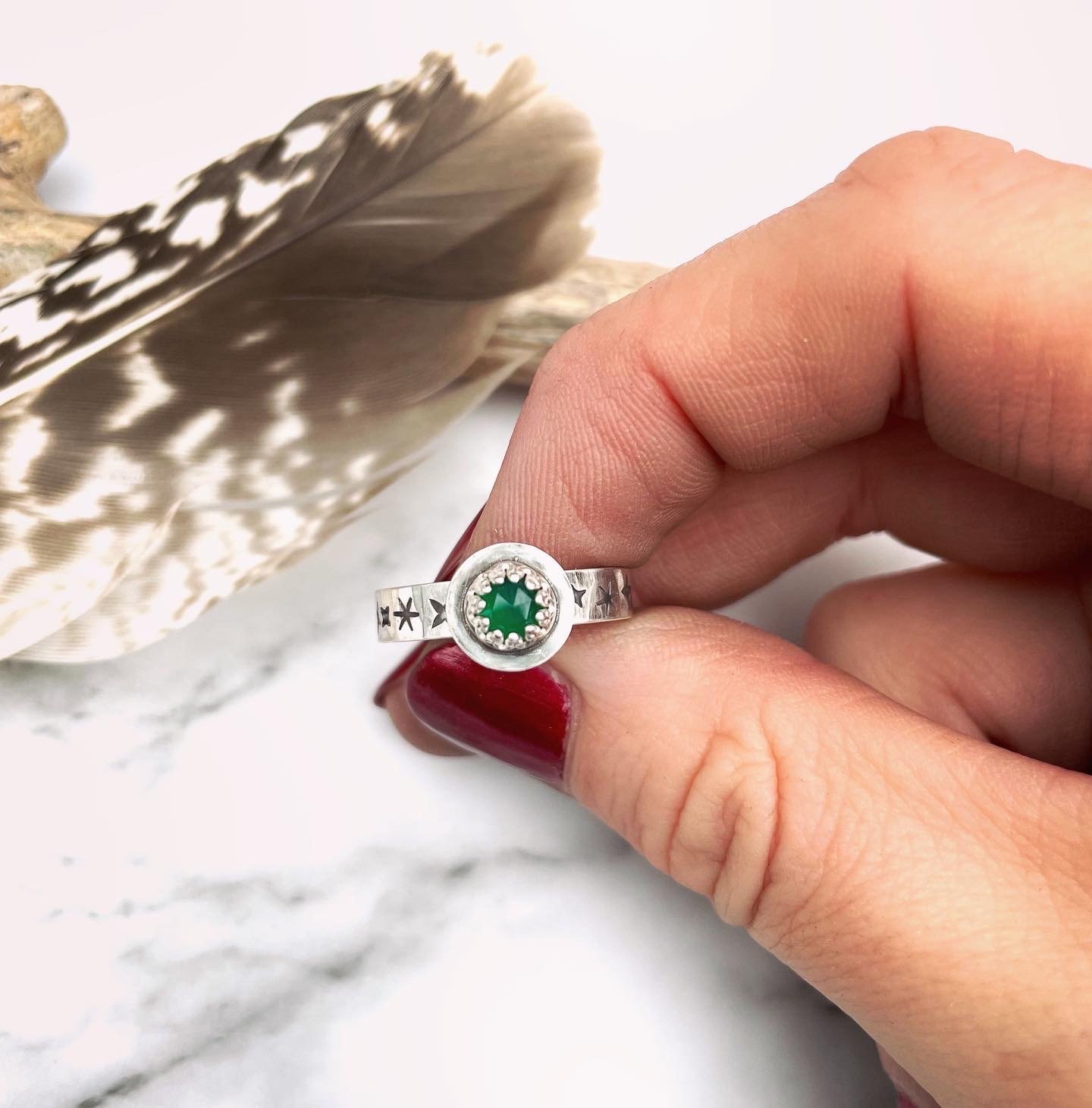 Handmade Sterling Silver Celestial Green Onyx Star Ring 925
Is green your colour? If so, this celestial green onyx ring is made for you! Handmade from Sterling silver. The band is stamped with sweet little stars ✨ Feel called to this piece?
I have one already made in size N, which is ready to post.
Any other sizes will be made to order.
✤ ✤ ✤ ✤ ✤ ✤ ✤ ✤ ✤ ✤ ✤ ✤ ✤ ✤ ✤ ✤ ✤
Green Onyx carries with it the primary properties of all forms of which are known for strength, willpower, and discipline. The green varieties stimulate these traits directly from the heart. Its able to soothe one's heart, bringing one to a calm emotional state. In bringing one to this state, it allows for a still mind so that one may call upon their inner endurance and persistence, making both self-mastery and dreadful tasks feel like a breeze.
Comes in a tie dye cotton gift bag stamped with the Eleven Feathers Jewellery logo.
***If you would prefer a gift box, please select the postage option for this***
The optional extra gift box is recycled card, stamped with the Eleven Feathers logo.
All materials are vegan.
I can add a gift message free of charge, and even post direct to the recipient if you prefer, don't hesitate to ask!
All pieces of Hallmarking weight (above 7.78g) are Hallmarked by the Edinburgh Assay Office and marked with my EF (Eleven Feathers) makers mark. Pieces under Hallmarking weight will be stamped with my makers mark (EF).