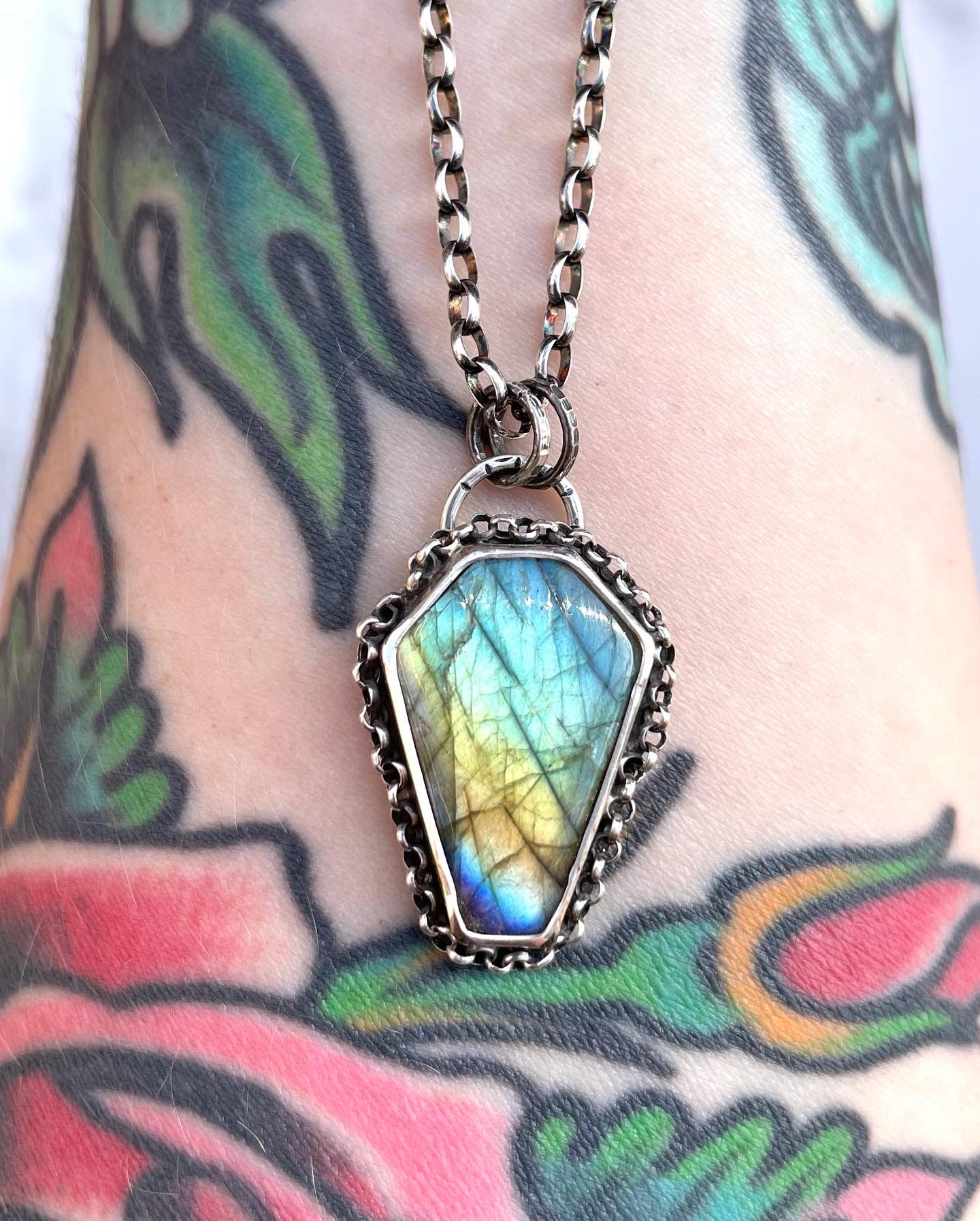 Handmade Sterling Silver Coffin Casket Labradorite Pendant 925
Feeling spooky? ⚰️ 👻 This coffin labradorite is the perfect addition to your spooky season wardrobe.
Handmade from Sterling silver. Suspended on a 20" silver belcher chain. The pendant (minus the loop) measures approximately 27mm x 19mm. The colours in this stone are almost supernatural! Feel called to this piece??
✦ ✦ ✦ ✦ ✦ ✦ ✦ ✦ ✦ ✦ ✦ ✦ ✦ ✦ ✦ ✦ ✦
Lore of the Inuit people claims Labradorite fell from the frozen fire of the Aurora Borealis, an ordinary stone that transforms to the extraordinary, shimmering in a mystical light that separates the waking world from unseen realms. It is, in every sense, a Stone of Magic, a crystal of shamans, diviners, healers, and all who travel and embrace the universe seeking knowledge and guidance. For self-discovery, it is excellent for awakening one's own awareness of inner spirit, intuition, and psychic abilities.
Comes in a tie dye cotton gift bag stamped with the Eleven Feathers Jewellery logo.
***Need a gift box? Available here! -----> http://www.elevenfeathersjewellery.com/product/gift-box-optional-extra
I can add a gift tag free of charge with your own personal message on and even post direct to the recipient if you prefer, don't hesitate to ask!